The mission of the Department of Public Health (formerly Health Education) at San Francisco State University is to promote health and health equity at the individual, community and structural levels through transformative education, research, scholarship and service, all of which value diversity, engage communities and are grounded in cultural humility.
The department offers degree programs leading to a Bachelor of Science in Health Education and a Master of Public Health (MPH). In addition, it offers minors in Health Education and Women's Health Issues.
Discover Public Health at SF State
Department of Public Health Chair Marty Martinson describes SF State's approach to the field of public health and how it relates to social justice.
Exciting news! We have a new department name — the Department of Public Health. After serving our students, the University and the community as the Department of Health Education for decades, this new name better now reflects who we are and what we do in our curricula and field. Please note that our courses now have a new prefix of PH, rather than HED.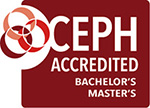 News and Events