Our Council on Education for Public Health (CEPH)-accredited MPH Program in Community Health Education offers an innovative 44-unit curriculum in community health education that promotes social justice and develops culturally and professionally competent leaders in the field of public health.
Pedagogy & Philosophy
Our applied curriculum emphasizes collaborative learning, teamwork, leadership, writing and presentation skills and features a supervised team practice experience, intensive culminating experience and the development of professional products appropriate for use in the field.
Cohort Learning Community
A new cohort of students enters the program together each fall semester, and progresses as a learning community through most of the courses in a set sequence. We require our entering students to have had at least two years full-time equivalent health-related work experience, preferably health equity work in the public health field.
Commitment
The program requires a minimum of five semesters to complete, including the summer semester between the first and second years. To accommodate working professionals, most of the program courses and activities are concentrated into two days/evenings per week.
For additional information, please refer to our program informational flyer.
The 44-unit curriculum consists of 17 courses listed below. Most students elect the five semester degree completion plan. However, longer time to degree completion plans are also available, one example being a seven semester plan. For additional information on course descriptions, please visit SF State's Academic Bulletin: MPH Degree Requirements and click on the course you are interested in learning more about.
PH (H ED) 810 Public Health & Principles of Community Organizing (3 units)
PH (H ED) 811 Community Health Education Professional Formation (1 unit)
PH (H ED) 815 Theories of Social Behavioral Change in Community Health Education (3 units)
PH (H ED) 820 Community Health Assessment (3 units)
PH (H ED) 821 Public Health Profession Practice (3 units)
PH (H ED) 825 Epidemiology (3 units)
PH (H ED) 828 Biostatistics Laboratory (1 unit)
PH (H ED) 829 Biostatistics & Public Health (3 units)
PH (H ED) 830 Health Education Planning, Management & Administration for Community Change (3 units)
PH (H ED) 835 Public Health Policy (3 units)
PH (H ED) 840 Program Evaluation Design & Research (3 units)
PH (H ED) 845 Educational Processes, Training & Curricula in Public Health (3 units)
PH (H ED) 855 Environmental Health (1 unit)
PH (H ED) 884 Seminar in Applied Community Health Education Research (Public Health Inquiry) (2 units)
PH (H ED) 890 Master of Public Health Culminating Experience Seminar (3 units)
Elective Course (3 units)
To accommodate working professionals, the SF State MPH class meetings are concentrated as much as possible into two days per week.
Principal Day
Currently, Thursdays, from 9 a.m. through the evening during each semester of enrollment in the program. Consequently, for all semesters of program enrollment, students must negotiate release time from their employment on the principal day.
Note: All students are expected to keep this day designated for the program in case shifts in course scheduling occur on the principal day. Also, the principal day is reserved for periodic program related activities.
2nd Course Day
As much as possible, the program concentrates coursework onto one principle day and a second day. Currently, the scheduling of the second course day is as follows (May be subject to change):
Semester One: The second coursework day will be Monday or Tuesday with a start time of 4 p.m., going into the evening.
Remaining Semesters of Program: The second coursework day will be a Monday or Tuesday evening, consisting of a three hour class period, usually with a 6 p.m. start time.
Elective: The day/time of the elective course will depend on the particular elective course selected by the student.
Group Project Work Time Scheduling
Team Time Coordination: When setting meeting times and dividing team tasks, student teams must attempt to minimize conflicts with work and life commitment schedules of individual team members.
Flexibility: Students should be aware that occasional additional work hour flexibility will likely be necessary during periods of student team project completion, which might include evenings, weekends, and business hours on days other than Thursdays, the latter especially coming into play when working on projects that include engagement with the community during daytime business hours.
Built-in Program Time: The principal day may provide prime time for small group project meetings and activities.
Public Health Profession Team Practice
Overview
The SF State MPH program includes a faculty-supervised public health profession team practice experience. The experience is an opportunity for students to put into practice the theory and concepts of an ecological approach to health. The public health profession team practice experience (PH 821) aims to provide students with:
a firm understanding of how to plan, apply and present a community health education project, and
training & development in professional public health practice skills.
Process
The team practice involves collaboration with community partners to develop and conduct a community health education project (typically spring and summer of the first year, but subject to change). Students work in small teams on various tasks and activities. Depending on the project, roles may include conducting literature reviews, data collection, analysis and reporting. Future team practice experiences will continue to expand collaboration with community partners and focus on critical public health equity issues in the San Francisco Bay Area.
Past Team Practice Projects
For many years, SF State Department of Public Health (formerly Health Education) and the Health Equity Institute at SF State have supported the MPH Team Practice and the Community Assessment for Change course and implementation of community assessments focused on housing and health. From 2012 to 2016, the assessment done had been part of a multi-year collaboration with HOPE SF — an effort led by the Mayor's Office and SF Foundation. Its aim is to transform some of the most distressed public housing sites in San Francisco. 
The entire class, in collaboration with the instructor and community partners, developed all aspects of the assessment and implemented the selected assessment methods. The class then analyzed the collected data and developed findings and recommendations. The practice courses culminate in the development of an assessment report, a user friendly community brief, and a formal presentation of assessment findings and recommendations to key stakeholders. 
The following details the most recent community assessment projects:
2019 MPH Community Assessment Project: An Examination of Housing Insecurity Amongst SF State Students (Collaboration with SF State's Basic Needs Initiative and Health Promotion & Wellness
2018 MPH Community Assessment Project: Conducting Data About Living Circumstances - Challenges & Opportunities (Collaboration with the County and City of San Francisco's Whole Person Care Initiative)
2017 MPH Community Assessment Project: Housing, Pregnancy & Preterm Birth in SF (Collaboration with UCSF's Preterm Birth Initiative) 
The following details the titles of the community assessment projects from 2012-2016. For more information, please visit the Health Equity Institute: The HOPE SF Learning Center Website to access the community briefs and final reports that resulted from these efforts.
2012 MPH Community Assessment Project: Peer Health Strategies in HOPE SF Communities
2013 MPH Community Assessment Project: Mental Health of Children and Their Families Living in HOPE SF Communities
2014 MPH Community Assessment Project: The Health and Well-Being of Youth Living in HOPE SF Communities
2015 MPH Community Assessment Project: Art and Healing in HOPE SF Communities
2016 MPH Community Assessment Project: Assessment of HOPE SF Onsite Health and Wellness Activities
What Students Say About The Team Practice Experience:
"The team practice is a wonderful opportunity to learn a skill-set in real time."
"I love being in the field, working with people, and working in groups."
"I have been able to work with a community that I haven't had the opportunity to work with before."
"The team practice is professional development. It is so hands on, and builds critical practical skills that you know you will use once you leave the university setting."
PH 890 Master of Public Health Culminating Experience Seminar
The MPH culminating experience seminar provides students the opportunity to integrate, synthesize, apply and demonstrate mastery of the MPH competencies acquired in the program. Through a review of the professional literature, class readings and assignments, critical discussion, and instructor, advisor, and peer feedback, students develop professional products that showcase MPH competency mastery, as well as their unique interests and passions within the field of public health.
Student Learning Outcomes:
Examine critical issues in the field of public health
Demonstrate application and integration of MPH core competencies through the development of professional products appropriate for use in the field
Demonstrate skills in graduate level writing competencies
Practice formal presentation skills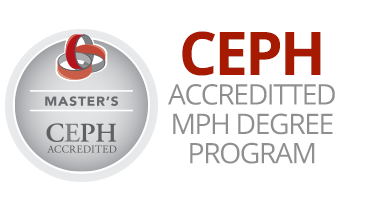 "Inspired by work that had allowed me to further community driven change, I decided to apply to an MPH program with focus on applying social justice to community health education."
—Kaylin, Alumna 2016