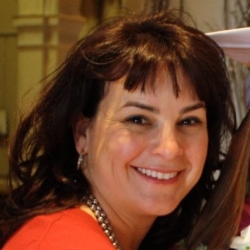 Atina Delfino
Lecturer Faculty
Email: atinas@sfsu.edu
Location: HSS 327
Atina Delfino is a Faculty Lecturer with the Department of Public Health (PH) at San Francisco State University (SFSU). She is a first-generation college student who grew up in San Francisco, and is also the first in her family to receive a college degree.
Atina has spent over 25 years working on the SFSU campus in various positions and capacities. Her work with the Department of Public Health began in 2005 as administrative staff, and she transitioned to teaching in 2010. She describes her teaching pedagogy as collaborative, integrative, reflective and learner-centered. Atina teaches undergraduate courses both in the major and general education, and has also taught lower-division courses for the SFSU Metro College Success and CHSS Second-Year Experience (SYE) Programs.
Atina has a Bachelor of Arts degree in Sociology with a minor in Criminal Justice from SFSU, and a Master of Science degree in Education from CSU East Bay (CSUEB).