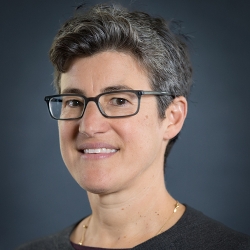 Phone: (415) 338-6209
Email: lmamo@sfsu.edu
Location: HSS 355
Biography: 
Laura Mamo (Ph.D. University of California, San Francisco, 2002) is Professor of Health Education and core-faculty member in the Health Equity Institute for Research, Practice and Policy at San Francisco State University. Her work lies at the intersection of medical sociology, gender studies, and cultural studies of science, technology and medicine. Her research portfolio includes studies of gender and sexual inequalities in the areas of reproductive health, health social movements, (in)fertility biomedicine, contemporary biopolitics and biomedicalization, and "lifestyle" technologies such as sexual enhancement drugs, assistive aging technologies, menstrual suppression therapies and, most recently, HPV vaccines.
Mamo's first book, Queering Reproduction: Achieving Pregnancy in the Age of Technoscience (Duke University Press, 2007), analyzed the convergence of Lesbian actors, women's health social movements, and the growth of medical assistive technologies. She is a co-editor of Biomedicalization Studies: Technoscience and Transformations of Health, Illness and U.S. Biomedicine (Duke University Press, 2010).
With a deep commitment to environmental health and social justice, Mamo's current research examines built environments and health inequalities. With Dr. Jennifer Fosket, she co-authored Living Green: Communities That Sustain (New Society Press, 2009) and completed an NSF funded study examining the built environment and the emergent category of social sustainability. In 2008, Mamo and Fosket founded Social Green, a research and education organization devoted to understanding the social implications of green innovations. They are working on their second co-authored book: Healing Green, examining the intersection of health, environmentalism, and local practices.
Her research has appeared in such journals as Signs: Women in Culture and Society, Science as Culture, Science, Technology & Human Values, Sociological Perspectives, Sociology of Health and Illness, and the American Sociological Review.
Mamo joined the faculty at SFSU in 2010 following appointments as Assistant Professor and Associated Professor in the Department of Sociology at the University of Maryland, College Park where she also served as an affiliate faculty member of the Women's Studies Department and LGBT studies program.